BMAC: Business Management for Architecture and Construction Firms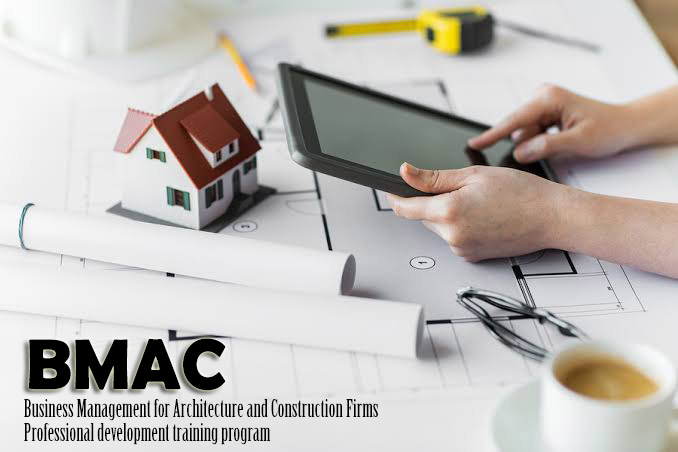 Professional development training program
Description
This Program designed for senior architects, construction engineers, and all levels of managers for small and medium architectural, construction, Contractors and Real-State firms. It focuses on Business Management, Leadership and improving quality for Architecture and Construction Practice. It helps in managing administrative work, managing technical working process, monitoring architects and Engineers, monitoring projects and its expenses. It presents varies tools to evaluate accomplishment the whole work office, and utilize advanced technology in coordinating projects and managing offices to reduce anticipated site conflicts, challenges and raise in-office management control.

Objectives and Goals
This course designed to help Architects, Engineers and Contractors to Change and develop their organizations by:
Change culture, behavior, and management system

Manage and monitor the regular and virtual offices' work process and tasks.

Develop office performance

Raise profits and sustain business.

Manage, Evaluate and monitor technical working process and performance.

Manage, Evaluate and monitor Project expenses and timeline.

Improve quality management inside office and in site.

Encourage using new technology in coordination, reviewing and management.
To reduce correction's times, client's review's times, increase office control and ease management system.

Overcome the family business challenges and develop their organizations
Duration:
45 hours, It maybe every Saturday from 4 pm to 9 pm and Sunday from 6 pm to 9 pm
Or two working days from 6 pm to 9 pm [Monday and Tuesday]

Course Outline
Introduction of architectural office management in regular and virtual offices.

Business sustainability and growing

Innovation and a business function

Manage architects and design process

Evaluate architects, projects, and office performance

Quality Management and Risk Management in Architectural and construction firms.

Common problems and its solutions, using new technology for regular and virtual offices.

Awareness about Architectural Family Business; and how to overcome its challenges.

Practical Exercise, case study (presentation).
Course Learning Outcomes
Participants will be able to manage, improve and grow their business with easy, simple, accurate ways. Encourage them using software programs in managing their offices. In addition, they will be able to evaluate and develop architects, projects and offices' performance using new technology and easy techniques.
Course Teaching, Learning Activities and Assessment Methods
Lectures, Presentations, experts' lectures

Assignments, quick quizzes, mid test, research, final presentation and report
Click here For Biography. For more information, please fill the biography form and send an email to: